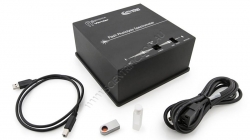 Enlarge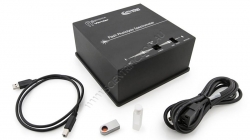 Enlarge
Vernier Flash Photolysis Spectrometer
Order code: VSP-FP
VERNIER FLASH PHOTOLYSIS SPECTROMETER
Photochemical reactions are very important in many areas of chemistry with applications including photodynamic therapy and solar energy harvesting. These reactions often proceed quickly and as a result require fast reaction techniques to analyse. The Vernier Flash Photolysis Spectrometer is a simple, user-friendly transient absorption spectrometer. It is useful for demonstrating the fundamental principles of these types of fast, photo-catalysed reactions. Some experiment ideas include kinetics of photochemical reactions such as
• Excited-state dynamics
• Triplet-decay analysis
• Time-resolved phosphorescence
• Phosphorescence-quenching kinetics
• Isomerization
• Reactive free radicals
• Photocatalysis

Specifications:
• Spectral coverage: 450–750nm
• Temporal resolution: 100 microseconds
• Spectral Resolution: Determined by the interference filter used (10nm with the included 600nm interference filter)
• Minimum time window: 15 milliseconds

The user manual contains two experiments:
• Isomerization of Mercury Dithizonate
• Base Catalysis of the cis-trans Isomerization of Congo Red

Included:
• Vernier Flash Photolysis Spectrometer
• AC power supply
• One fluorescence quartz cuvette
• USB cable
• Empty filter housing (fits standard size, third party filters: 12.5mm OD and 9.0mm ID)
• 600nm filter (10nm FWHM) in filter housing
• Quick start guide

Sensor Requirements:
The Vernier Flash Photolysis Spectrometer is currently for Windows computers only. It connects directly to a computer via USB and does not require a Vernier interface. The software is provided as a free download.
Educational use only:
Vernier and Kidwind products are designed for educational use. They are not appropriate for industrial, medical or commercial applications. Details
---
Warranty
Warranty: 5 years

---

Dimensions

Package size (HxWxD): 191 x 108 x 241mm
Packed weight: 4.69kg

Last edited 19th May 2022
&nbsp
Similar Products:
From
VSP-EM - Vernier Emissions Spectrometer

$1,940.00
Note: Prices do NOT include GST or freight