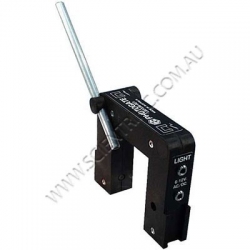 Enlarge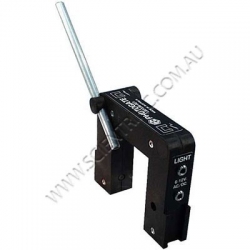 Enlarge
IEC Photogate U Shaped with Support Rod
Order code: LB2336-001
IEC PHOTOGATE WITH SUPPORT ROD

NOTE: This product is designed to be used with IEC Timers and will NOT WORK with Vernier or similar data loggers.

Consists of a self contained light source and photo detector mounted in a plastic 'U' frame, with an 8mm x 200mm mounting rod which can be clamped in a bosshead to allow the photogate to be used at any angle.

On one side of the "U" is the LED visible light source operating from an 8-12V AC or DC power source connected via 4mm banana sockets. Alternatively a 240/12V AC mains adaptor (Plug Pak) can be used and connected to a separate socket. The opposite side of the housing has the photo detector which behaves as an electronic switch that closes when the light beam is broken.

For convenience a monitor LED on the side of the housing indicates when the gate has switched.

The 4mm connection sockets are polarised positive and negative.

Normally a clock or digital timer is connected to these sockets and the clock or timer itself provides the power to run the photo detector circuit. If connections are reversed, the Gate will appear to be permanently switched on.

Two photogates can be used, one to start and another to stop a timer, e.g. Event Timer LB4057-001 or Timer/Counter LB4071-101, to study average velocities and acceleration.
NOTE: This is a genuine IEC product
We believe in supporting Australian industry and only sell genuine IEC products, we do NOT sell imported clones of IEC products.
&nbsp
Works with:
From
MF0107Z-001 - IEC Air Track 2.0m Complete with All Parts

$654.00

MF0105Z-001 - IEC Air Track 2.5m Complete with All Parts

$712.00

LB4057-001 - IEC Multi-Timer LCD Portable

$210.00

LB4071-101 - IEC Multi Timer/Counter/Frequency Meter and Geiger Counter

$605.00

&nbsp
Similar Products:
From
MF0107-001 - IEC Air Track 2.0m Air Tube and End Seals Only

$264.00

MF0107-401 - IEC Air Track 2.0m Kit Spark Recorder

$283.00

MF0132-001 - IEC Air Track Assembly Kit for All Models

$115.00

MF0133-001 - IEC Air Track Operation Kit for All Models

$334.00

MF0136-101A - IEC Air Track Booster Kit for All Models

$209.00

MF0107-005 - IEC Air Track 2.0m Sub Base and Stud Kit

$178.00

MF0138-001 - IEC Air Track Photogate Kit 2 Cables

$231.00

LB0115-002 - IEC Air Source Variable Speed for Air Table or Track

$264.00
Note: Prices do NOT include GST or freight