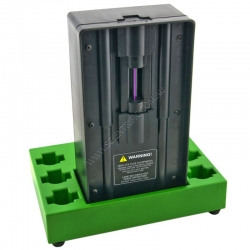 Enlarge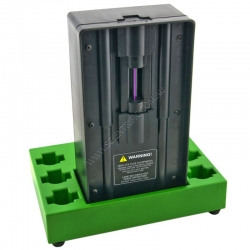 Enlarge
Vernier Spectrum Tube Single Power Supply
Order code: ST-SPS
VERNIER SPECTRUM TUBE SINGLE POWER SUPPLY
This spectrum tube power supply provides a simple means of viewing gas discharge spectral lines with any of our spectrometers. Unlike other designs, this system has no exposed high voltage.

The gas tubes are permanently enclosed in plastic carriers that protect the tubes from breakage. There are no through-the-glass electrodes, so the tubes last far longer than older designs. The Power Supply will energize one tube at a time and includes storage space for an additional six tubes.

All tubes are sold separately.

A Spectrum Tube Fiber Optic Holder is included to hold an optical fiber cable in position.
Educational use only:
Vernier and Kidwind products are designed for educational use. They are not appropriate for industrial, medical or commercial applications. Details
---
Warranty
Warranty: 2 years

---

Dimensions

Package size (HxWxD): 267 x 337 x 330mm
Packed weight: 3.29kg

Last edited 22nd Aug 2023
&nbsp
Works with:
From
ST-AR - Vernier Spectrum Tube - Argon

$112.00

ST-AIR - Vernier Spectrum Tube - Air

$112.00

ST-CO2 - Vernier Spectrum Tube - CO2

$112.00

ST-NE - Vernier Spectrum Tube - Neon

$112.00

ST-HE - Vernier Spectrum Tube - Helium

$112.00

ST-N - Vernier Spectrum Tube - Nitrogen

$112.00

ST-H - Vernier Spectrum Tube - Hydrogen

$112.00

ST-FHS - Vernier Spectrum Tube Fiber Optic Holder Single

$28.00
Note: Prices do NOT include GST or freight