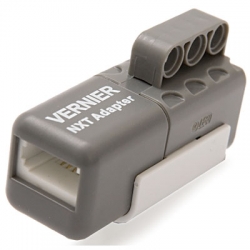 Enlarge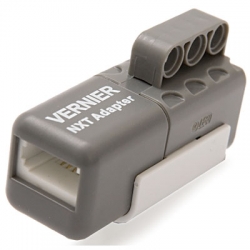 Enlarge
Vernier NXT Sensor Adapter
Order code: BTA-NXT
Discontinued - only 2 in stock
VERNIER NXT SENSOR ADAPTOR.
The Vernier NXT Sensor Adapter allows Vernier sensors to work on the LEGO® MINDSTORMS® NXT and EV3 robotics system. Listed below are compatible sensors for measuring everything from temperature, force, light level, UV level, pH and more.

• Connect over 30 Vernier analogue (BTA) sensors to the LEGO® MINDSTORMS® NXT and EV3 Robotics Systems
• Create sensor-based control systems
• Use with LEGO® MINDSTORMS® NXT, LEGO® MINDSTORMS® EV3, NI LabVIEW, ROBOLAB, EV3 MicroPython or Scratch 3 software

Can I use Vernier sensors with LEGO hardware and software?
To use the Vernier NXT Sensor Adapter with LEGO® MINDSTORMS® software a Vernier Sensor block for NXT or EV3 versions is required. These are free downloads available from Vernier. See detailed information and links to download the Vernier Sensor Block: View >>>>

NXT Sensor Adapter Compatible Sensors:
25-g Accelerometer*
Anemometer
Barometer
Charge Sensor*
Colorimeter*
Conductivity Probe
Current Probe
Differential Voltage Probe
Dissolved Oxygen Probe
Dual-Range Force Sensor
Electrode Amplifier*
Extra Long Temperature Probe*
Flow Rate Sensor*
Force Plate
Gas Pressure Sensor
Goniometer**
Hand Dynamometer
High Current Sensor*
Infrared Thermometer**
Instrumentation Amplifier*
Light Sensor
Low-g Accelerometer*
Magnetic Field Sensor
O2 Gas Sensor
Optical DO Probe**
ORP Sensor*
PAR Sensor**
pH Sensor
Platinum-Cell Conductivity Probe**
Pressure Sensor 400**
Pyranometer**
Relative Humidity Sensor
Salinity Sensor
Soil Moisture Sensor
Sound Level Meter*
Sound Level Sensor**
Stainless Steel Temperature Probe
Surface Temperature Sensor
Thermocouple#
TI Light Probe*
Tris-Compatible Flat pH Sensor**
Turbidity Sensor
UVA Sensor
UVB Sensor

Compatibility Notes:
** These sensors are NOT supported by LEGO® MINDSTORMS® NXT

# This sensor is not supported by LEGO® MINDSTORMS® EV3

* LEGO® MINDSTORMS® EV3 can only read the raw count/raw voltage output by these sensors. You must do the programming to convert to proper sensor units.
Educational use only:
Vernier and Kidwind products are designed for educational use. They are not appropriate for industrial, medical or commercial applications. Details
---
Dimensions
Package size (HxWxD): 25 x 127 x 152mm
Packed weight: 20g

Last edited 19th May 2022
&nbsp
Works with:
From
EP-NXT - Vernier Engineering Projects with Lego NXT

$99.00

&nbsp
Similar Products:
From
LQ-MINI - Vernier LabQuest Mini Data Logger Interface

$398.00

GO-LINK - Vernier Go!Link Data Logger Interface with Logger Lite Software

$167.00

EZ-LINK - Vernier Easy Link

$165.00
Note: Prices do NOT include GST or freight