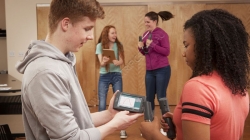 Vernier Go Wireless Heart Rate in use with a LabQuest 2 and and iPad.


Enlarge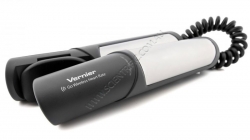 Vernier Go Wireless Heart Rate close-up.


Enlarge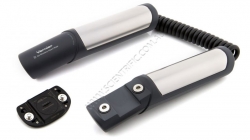 Vernier Go Wireless Heart Rate with transmitter removed.


Enlarge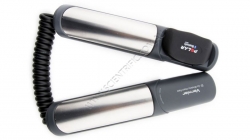 Vernier Go Wireless Heart Rate.


Enlarge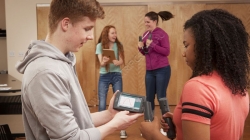 Vernier Go Wireless Heart Rate in use with a LabQuest 2 and and iPad.


Enlarge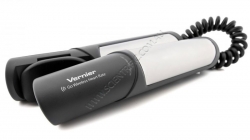 Vernier Go Wireless Heart Rate close-up.


Enlarge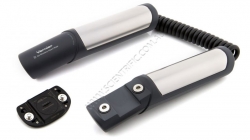 Vernier Go Wireless Heart Rate with transmitter removed.


Enlarge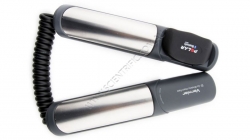 Vernier Go Wireless Heart Rate.


Enlarge
Vernier Go Wireless Heart Rate - Data Logger
Order code: GW-HR

VERNIER GO WIRELESS HEART RATE
The Vernier Go Wireless Heart Rate is a pair of wireless hand grips that transmit heart rate onto a mobile device. Heart rate is measured by registering the small electrical signals carried across the surface of the skin each time the heart contracts. The Polar Transmitter Module detects each electrical signal from the heart through the electrodes on the hand grips. The heart rate information is then wirelessly transmitted using a Bluetooth radio to supported mobile devices.

Vernier's Go Wireless Heart Rate is ideal for continuously monitoring heart rate before, during and after exercise or while a person is stationary. Data are wirelessly transmitted to iPad®, LabQuest®2 or other mobile devices that are Bluetooth®Smart Ready.

This option eliminates the need for a chest belt and allows students to measure their heart rate from the palm of their hands.
• Simple and easy to use
• Displays live heart rate readouts before data collection
• Hand grips do not require electrodes or clips
• Easy to clean and share between students

For a hands-free option, please consider the GW-EHR Vernier Go Wireless Exercise Heart Rate

Included:
• HR-GRIP Vernier Heart Rate Hand Grips
• HR-TRANS Vernier Polar Transmitter Module (battery included)
Both items can be purchased separately.

Specifications:
• Battery Type: CR2025
• Battery Lifetime: 200hrs
• Operating Temperature: -10 to 50°C
• Wireless range: 10m or more unobstructed
• Radios: Bluetooth® and 5kHz RF transmission

The Polar Transmitter Module is recommended for devices that have Bluetooth® Smart support and the appropriate software.




Compatible Software:
• Graphical Analysis app
• LabQuest App (version 2.5 or newer)

Supported Devices:
• iPad (3rd or newer), iPad mini and iPad Air
• iPhone (4S or newer)
• iPod touch (5th generation)
• LabQuest 2 with Bluetooth® Smart
• Android tablets and phones running Android™ 4.3 or newer

NOTE: When using with Vernier interfaces that are not Bluetooth® Smart Ready you will need a Heart Rate Receiver (HR-REC) to collect data.
Educational use only:
Vernier and Kidwind products are designed for educational use. They are not appropriate for industrial, medical or commercial applications. Details
---
Warranty
Warranty: 5 years

---

Dimensions

Package size (HxWxD): 83 x 83 x 267mm
Packed weight: 360g

Last edited 19th May 2022

This product is used in teaching these Australian Curriculum codes:

ACSBL115 - Maintaining the internal environment - Homeostasis - Animals, whether osmo-regulators or osmo-conformers, and plants, have various mechanisms to maintain water balance that involve structural features, and behavioural, physiological and homeostatic responses
ACSBL111 - Maintaining the internal environment - Homeostasis - Changes in an organism's metabolic activity, in addition to structural features and changes in physiological processes and behaviour, enable the organism to maintain its internal environment within tolerance limits
ACSBL110 - Maintaining the internal environment - Homeostasis - Homeostasis involves a stimulus response model in which change in external or internal environmental conditions is detected and appropriate responses occur via negative feedback; in vertebrates, receptors and effectors are linked via a control centre by n
ACSSU175 - Biological Sciences - Organ Systems - Multi-cellular organisms rely on coordinated and interdependent internal systems to respond to changes to their environment

Click a curriculum code to see other products that relate.
&nbsp
Accessories / Spare Parts:
From
HR-REC - Vernier Heart Rate Receiver

$100.00

HR-STRAP - Vernier Exercise Heart Rate Strap

$47.00

HR-TRANS - Vernier Polar Transmitter Module

$129.00

HR-GRIP - Vernier Heart Rate Hand Grips

$91.00

&nbsp
Works with:
From
LABQ2 - Vernier LabQuest 2 Data Logger and Interface

$835.00

LQ-MINI - Vernier LabQuest Mini Data Logger Interface

$398.00

LQ-STREAM - Vernier LabQuest Stream Wireless Data Logger

$610.00

LP - Vernier Logger Pro 3 Data Logging Software

$666.00

GO-LINK - Vernier Go!Link Data Logger Interface with Logger Lite Software

$167.00

BWV - Biology with Vernier

$116.00

BIO-A - Advanced Biology with Vernier

$116.00

BIO-I - Investigating Biology through Inquiry Vernier

$116.00

HP-A - Human Physiology with Vernier

$116.00

MSV - Middle School Science with Vernier

$116.00

&nbsp
Similar Products:
From
HGH-BTA - Vernier Hand-Grip Heart Rate Monitor

$287.00

EHR-BTA - Vernier Exercise Heart Rate Monitor

$220.00

HR-REC - Vernier Heart Rate Receiver

$100.00

GW-EHR - Vernier Go Wireless Exercise Heart Rate - Data Logger

$176.00

HR-STRAP - Vernier Exercise Heart Rate Strap

$47.00

HR-GRIP - Vernier Heart Rate Hand Grips

$91.00

HR-TRANS - Vernier Polar Transmitter Module

$129.00
Note: Prices do NOT include GST or freight