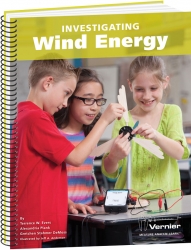 Enlarge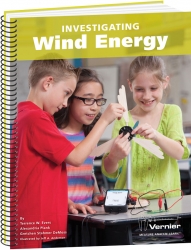 Enlarge
Vernier Investigating Wind Energy
Order code: ELB-WIND
VERNIER INVESTIGATING WIND ENERGY
This book contains 10 hands-on engaging wind energy experiments for K-6 students and a culminating wind energy engineering project. Students explore wind energy through the use of the KW-MWT KidWind MINI Wind Turbine and the VES-BTA Vernier Energy Sensor. Topics covered include energy transfer, basic electric circuits and blade variables including pitch, shape, quantity, mass and material.

NOTE
If you have previously purchased a copy of this Vernier lab book please contact Support at Scientrific.com.au for free access to the electronic version and it's updated contents.

Printed Lab Book
• 10 ready-to-use student experiments and a culminating engineering project
• Access to up-to-date versions of the experiments
• Instructions for data collection with Logger Lite and LabQuest App
• Essential instructor information including teaching tips, suggested answers, and sample data and graphs
• Word-processing files of the student experiments so you can edit the files to match your teaching preferences
• A generous site licence­—buy one book and duplicate the experiments for your class
• One printed copy of the book

Electronic Version ELB-WIND-E
When you buy the electronic version of the lab book you receive all of the resources listed for the printed version
except a printed copy of the book.

Table of Contents
1. Introduction to Wind Turbines
2. Exploring Wind Energy
3. Introduction to the Vernier Energy Sensor
4. Wind Turbine Output: The Effect of Load
5. Exploring Wind Turbine Blades
6. Blade Design: Pitch
7. Blade Design: Area
8. Blade Design: Quantity
9. Blade Design: Mass
10. Blade Design: Material
11. Project: Power Up!
Educational use only:
Vernier and Kidwind products are designed for educational use. They are not appropriate for industrial, medical or commercial applications. Details
---
Dimensions
Package size (HxWxD): 13 x 229 x 279mm
Packed weight: 500g

Last edited 19th May 2022
&nbsp
Works with:
From
LABQ2 - Vernier LabQuest 2 Data Logger and Interface

$835.00

LQ-MINI - Vernier LabQuest Mini Data Logger Interface

$398.00

KW-MWT - KidWind Mini Wind Turbine

$120.00

KW-SLB - KidWind Sound And Light Board

$20.00

VES-BTA - Vernier Energy Sensor

$220.00

VES-RB - Vernier Energy Sensor Resistor Board

$40.00

&nbsp
Similar Products:
From
BWV - Biology with Vernier

$116.00

BIO-A - Advanced Biology with Vernier

$116.00

AWV - Agricultural Science with Vernier

$117.00

BIO-I - Investigating Biology through Inquiry Vernier

$116.00

ELB-SOLAR - Vernier Investigating Solar Energy

$60.00

ELB-WIND-E - Vernier Investigating Wind Energy - Electronic Version

$45.00

ELB-TEMP - Vernier Lets Go! Investigating Temperature

$60.00

ESV - Earth Science with Vernier

$116.00

EWV - Elementary Science with Vernier

$116.00

HP-A - Human Physiology with Vernier

$116.00

ESI - Vernier Environmental Science through Inquiry

$116.00

MSV - Middle School Science with Vernier

$116.00

REV - Renewable Energy with Vernier

$116.00

PSV - Physical Science with Vernier

$116.00

WQV - Water Quality with Vernier

$116.00
Note: Prices do NOT include GST or freight