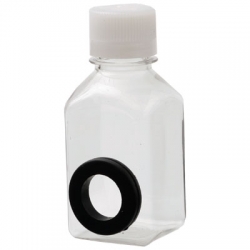 Enlarge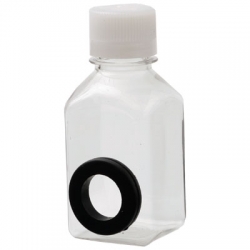 Enlarge
Vernier BioChamber 250
Order code: BC-250

VERNIER BIOCHAMBER 250
The Vernier BioChamber is useful for experiments investigating photosynthesis and cell respiration. The Vernier BioChamber 250 is a 250mL Nalgene bottle that can be used with a Vernier CO2 Gas Sensor or Vernier Go Direct CO2 Gas Sensor and a Vernier O2 Gas Sensor or Vernier Go Direct O2 Gas Sensor to monitor gaseous carbon dioxide and oxygen levels simultaneously in a closed system.

With the bottle on its side, place the Vernier CO2 Gas Sensor into the neck of the BioChamber and the O2 Gas Sensor into the rubber grommet. This design keeps the O2 Gas Sensor in the desired upright position while placing the CO2 Gas Sensor in an ideal position for gas level monitoring.

A size 6 rubber stopper fits into the rubber grommet if an O2 Gas Sensor is not used. Note: While the stopper fits snugly in the grommet, it is not guaranteed to be a water tight seal.

A BioChamber 2000 (2000mL) is also available.
Educational use only:
Vernier and Kidwind products are designed for educational use. They are not appropriate for industrial, medical or commercial applications. Details
---
Warranty
Warranty: None

---

Dimensions

Package size (HxWxD): 57 x 152 x 235mm
Packed weight: 70g

Last edited 19th May 2022

This product is used in teaching these Australian Curriculum codes:

ACSSU176 - Biological Sciences - Ecology - Ecosystems consist of communities of interdependent organisms and abiotic components of the environment; matter and energy flow through these systems

Click a curriculum code to see other products that relate.
&nbsp
Works with:
From
GDX-O2 - Vernier Go Direct O2 Gas Sensor

$476.00

GDX-CO2 - Vernier Go Direct CO2 Gas Sensor

$523.00

CO2-BTA - Vernier CO2 Gas Sensor

$657.00

O2-BTA - Vernier O2 Oxygen Gas Sensor

$467.00

CO2-GROM - Vernier BioChamber Grommets (Pack of 10)

$13.00

&nbsp
Similar Products:
From
CO2-BTL - Vernier CO2 / O2 Respiration Chamber

$11.00

BC-2000 - Vernier BioChamber 2000

$49.00
Note: Prices do NOT include GST or freight