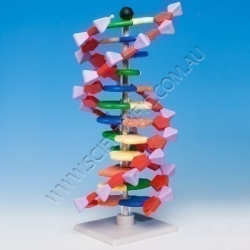 AMDNA-060-12


Enlarge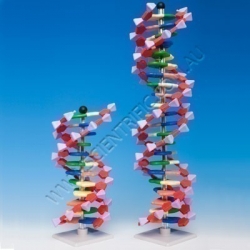 AMDNA-060-12_and AMDNA-060-22


Enlarge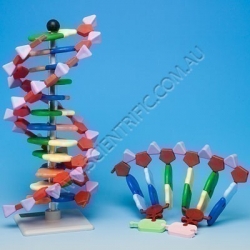 AMDNA12-060-12 and AMRNA_12


Enlarge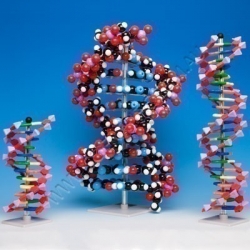 AMDNA-060-12, AMDNA-060-22 and MKS-122-10


Enlarge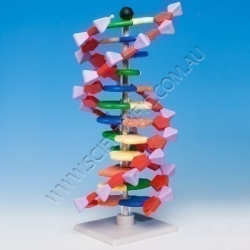 AMDNA-060-12


Enlarge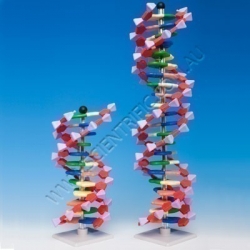 AMDNA-060-12_and AMDNA-060-22


Enlarge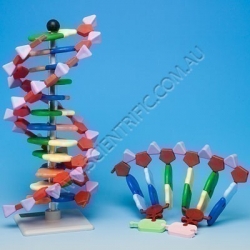 AMDNA12-060-12 and AMRNA_12


Enlarge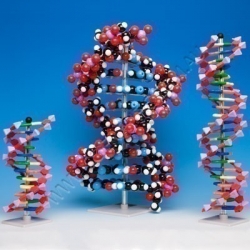 AMDNA-060-12, AMDNA-060-22 and MKS-122-10


Enlarge
Molymod DNA Model Kit 12 Layer
Order code: AMDNA-060-12

MOLYMOD DNA 12 LAYER MODEL KIT
This advanced model of one complete turn of the DNA double helix is designed for self-assembly of the 12 layers. The double helix structure becomes evident as the model is constructed.

Components include colour coded bases (G,C,A and T), deoxyribose and phosphate groups, as well as a display stand. The model may be assembled on the stand for display or laid flat for a demonstration of unzipping and replication.

To demonstrate transcription and protein synthesis, combine this DNA model with either Molymod RNA model
AM-RNA-12 Molymod RNA Base Model Kit
AM-RNA-24PS Molymod RNA Protein Synthesis Kit.

Structural details include the major groove-minor groove of the double helix and correct representation of the hydrogen bonds between the bases, G+C and A+T.

Scale: 1cm = 2Å

Includes:
• 6 x each of G,C A and T Bases
• 24 x Deoxyribose
• 24 x Phosphate
• 1 x display stand
• Assembly instructions

As with all Molymod® molecular models, spare parts are available if required.

A quality, genuine Molymod® model fully compatible with other Molymod® products.
---
Dimensions
Product size: 110x240x110mm (WHD)

Last edited 17th Oct 2023

This product is used in teaching these Australian Curriculum codes:

ACSSU184 - Biological Sciences - DNA - The transmission of heritable characteristics from one generation to the next involves DNA and genes

Click a curriculum code to see other products that relate.
&nbsp
Accessories / Spare Parts:
From
AMDNA-SPACER-10 - Molymod Colourless Spacer

$3.00

AMDP-ADE-6 - Molymod Mini DNA Spare Dark Blue Adenine

$6.00

AMDP-CYT-6 - Molymod Mini DNA Spare Yellow Cytosine

$6.00

AMDP-DO-RIB-6 - Molymod Mini DNA Spare Red Deoxyribose

$6.00

AMDP-GUA-6 - Molymod Mini DNA Spare Green Guanine

$6.00

AMDP-PHOS-6 - Molymod Mini DNA Spare Purple Phosphate

$6.00

AMDP-RIB-6 - Molymod Mini DNA Spare Dark Red Ribose

$6.00

AMDP-THY-6 - Molymod Mini DNA Spare Orange Thyamine

$6.00

AMDP-URA-6 - Molymod Mini DNA Spare Light Blue Uracil

$6.00

&nbsp
Similar Products:
From
AMDNA-060-22 - Molymod DNA Model Kit 22 Layer

$89.60

MKS-122-2 - Molymod DNA Model 2 Base Pairs on Stand

$96.90

MKS-122-10 - Molymod DNA Model 10 Base Pairs on Stand

$478.40
Note: Prices do NOT include GST or freight