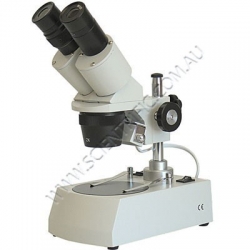 Enlarge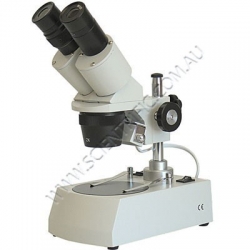 Enlarge
Stereo Microscope 20X and 40X with LED Light
Order code: MS24LED

| Purchase QTY: (Each) | 1+ | 5+ | 10+ | | |
| --- | --- | --- | --- | --- | --- |
| Scientrific's price | $346.00 | $346.00 | $346.00 | | |
| Educational price | $336.00 | $325.00 | $303.00 | | |
Note: Prices do NOT include GST or freight
STEREO MICROSCOPE WITH RECHARGEABLE BATTERIES
A high quality stereo microscope with LED lighting that is ideal for field use as it can be powered by the included rechargeable batteries. In the lab it can be powered by the rechargeable batteries, by mains power or a combination of both. It is suitable for both junior and senior students,

Features:
• 45° inclined 360° rotatable head
• Ten times wide field eyepieces (WF10x)
• 2x and 4x rotating objectives
• 20x or 40x total magnification
• Slip clutch focusing
• LED lighting, both top (incident) and bottom (transmitted) illumination.
• Fully charged batteries will power the LED lighting for at least 10 hours.

Power options:
The microscope includes a mains powered plug-pack to charge the built-in rechargeable NiMH batteries. The microscope can be powered in the following ways.
Battery only:
Removing the plug-pack allows you to use charged batteries to power the LED lighting.
Battery and/or Mains:
With the mains plug-pack connected and batteries installed the microscope can be operated with OR without mains power.
Mains only:
It is also possible to remove the batteries and use only the mains adaptor.

Safety and wet samples:
The LED's are powered by just 6 volts, therefore disconnecting the mains adapter and working with just the batteries makes the microscope extremely safe especially if you are working with wet samples.

Live Specimens:
Another benefit of the LED lighting is that it produces very little heat which is great for sensitive or living specimens, no more cooked specimens!

This product is used in teaching these Australian Curriculum codes:

ACSSU149 - Biological Sciences - Cells - Cells are the basic units of living things and have specialised structures and functions
ACSSU176 - Biological Sciences - Ecology - Ecosystems consist of communities of interdependent organisms and abiotic components of the environment; matter and energy flow through these systems

Click a curriculum code to see other products that relate.
&nbsp
Accessories / Spare Parts:
From
SC4575 - Microscope Cleaning Urethane Buds Pack of 20

$5.00

SC7731 - Lens Cleaning Pen

$13.50

SC4570 - Microscope Grease Losimol 6305 60g

$40.00

SC14548 - Slide Box Plastic for 50 Microscope Slides

$6.00

SC7220 - Slide Box Microscope Polystyrene Fits 25

$4.00

SC7221 - Slide Box Microscope Polystyrene Fits 100

$10.00

&nbsp
Similar Products:
From
SC5135 - USB Digital Camera Microscope 5MP

$155.00

MMLED - Biological Microscope with LED Lighting

$300.00
Note: Prices do NOT include GST or freight