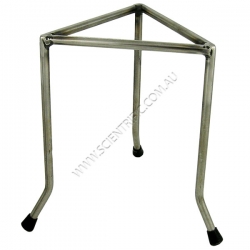 SC92000 tripod.


Enlarge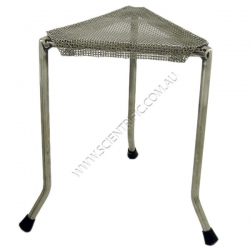 SC92000 tripod with SC92002 safety mesh mat attached (mat sold separately).


Enlarge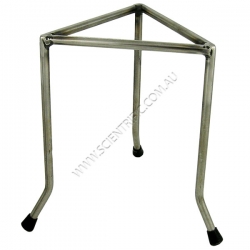 SC92000 tripod.


Enlarge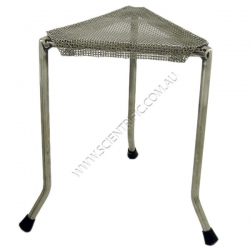 SC92000 tripod with SC92002 safety mesh mat attached (mat sold separately).


Enlarge
Tripod Stainless Steel Heavy Duty 200mm High
Order code: SC92000

| Purchase QTY: (Each) | 1+ | 10+ | | | |
| --- | --- | --- | --- | --- | --- |
| Scientrific's price | $10.00 | $10.00 | | | |
| Educational special | | $9.00 | | | |
Note: Prices do NOT include GST or freight
STAINLESS STEEL TRIPOD.
Manufactured solely for us and only available from Scientrific, our product is NOT AVAILABLE ELSEWHERE.. These tripods set a new standard of excellence.

Made from non-rusting, incredibly strong 8mm diameter welded stainless steel rod with polished welds and sturdy non-slip silicon feet.

Height: 200mm, top: 145x145x145mm, base: 180x180x180mm.

We highly recommend using our SC92002 safety mesh with this tripod.

Beware a competitor who has used our image on their website! You will not be getting the product you expect! We will name and shame companies who steal our images to apparently insinuate their product is ours.

This product is used in teaching these Australian Curriculum codes:

ACSSU049 - Physical Sciences - Heat - Heat can be produced in many ways and can move from one object to another
ACSSU182 - Physical Sciences - Energy Transfer - Energy transfer through different mediums can be explained using wave and particle models

Click a curriculum code to see other products that relate.
&nbsp
Works with:
From
SC92002 - Stainless Steel Triangular Gauze/Mesh Mat Pack 5

$15.00

SC92002C - Stainless Steel Triangular COARSE Gauze/Mesh Mat Pack 5

$10.00

&nbsp
Similar Products:
From
SC92004 - Stainless Steel Tripod WITH Triangular Gauze/Mesh Mat - Set of 5

$60.00

LW1617-01 - Bunsen Burner for Natural Gas

$0.00

LW1607-01 - Bunsen Burner for LP Gas

$0.00

SC7612 - Silicon Bunsen Burner Tubing

$5.00
Note: Prices do NOT include GST or freight