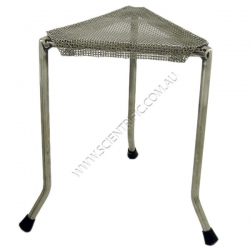 Tripod with Mesh Mat.


Enlarge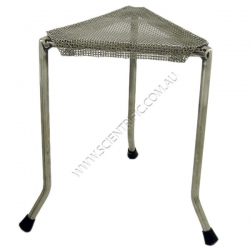 Tripod with Mesh Mat.


Enlarge
Stainless Steel Tripod WITH Triangular Gauze/Mesh Mat - Set of 5
Order code: SC92004
Purchase QTY: (Set of 5)
1+
10+
Base price
$64.00
$64.00
Scientrific's price
$64.00
$64.00
Educational special
$64.00
$60.00
Note: Prices do NOT include GST or freight
STAINLESS STEEL TRIANGULAR TRIPOD AND GAUZE (Mesh) MAT SET.
A convenient set of five SC92000 stainless steel tripods and five SC92002 stainless steel gauze/mesh mats.

Beware a competitor who has used our image on their website! You will not be getting the product you expect! We will name and shame companies who steal our images to apparently insinuate their product is ours.

SC92000 STAINLESS STEEL TRIPOD details:
Manufactured solely for us and only available from Scientrific, our product is NOT AVAILABLE ELSEWHERE. These tripods set a new standard of excellence.

Made from non-rusting, incredibly strong 8mm diameter welded stainless steel rod with polished welds and sturdy non-slip silicon feet.

Height: 200mm, top: 145x145x145mm, base: 180x180x180mm.

We highly recommend using our SC92002 safety mesh with this tripod.

SC92002 STAINLESS STEEL TRIANGULAR GAUZE (MESH) MAT details.
Made specifically for us to suit our SC92000 stainless steel tripod, our product is not available elsewhere. Our specification was for a super safe product that could not fall off our tripod or be easily caught on cuffs and the factory really delivered!

The mesh size has been selected to minimise hot spots while ensuring maximum durability and because stainless steel is a poor heat conductor this mat is safer than iron ones.

Suits tripods with up to 145mm long sides.

Mesh size: approximately 48 strands of wire per 10cm.
Mesh Thickness: approximately 0.4mm.
Last edited 24th Aug 2023
&nbsp
Works with:
From
LW1617-01 - Bunsen Burner for Natural Gas

$20.50

LW1607-01 - Bunsen Burner for LP Gas

$20.50

&nbsp
Similar Products:
From
SC92002 - Stainless Steel Triangular Gauze/Mesh Mat Pack 5

$15.00

SC92000 - Tripod Stainless Steel Heavy Duty 200mm High

$9.00

SC92002C - Stainless Steel Triangular COARSE Gauze/Mesh Mat Pack 5

$10.00

SC7612 - Silicon Bunsen Burner Tubing

$7.00
Note: Prices do NOT include GST or freight