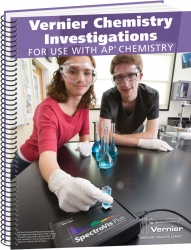 APCHEM printed version


Enlarge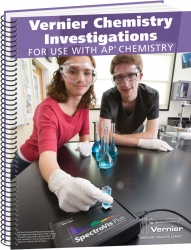 APCHEM printed version


Enlarge
Vernier Chemistry Investigations for AP - Electronic Version
Order code: APCHEM-E
VERNIER CHEMISTRY INVESTIGATIONS FOR USE WITH AP CHEMISTRY - ELECTRONIC
This lab book provides 16 inquiry-based laboratory experiments aligned with the Advanced Placement inquiry investigations published by The College Board of America. Each experiment guides students to investigate key principles of AP Chemistry using electronic sensors to collect important data.

Vernier Chemistry Investigations for Use with AP Chemistry lab book also provides a comprehensive set of resources for teachers including sample data, sample analysis and calculations and helpful guides to preparing reagents and chemical solutions. In addition, a carefully chosen set of step-by-step instructions for operating probes and software is included to help students make the best use of available lab time while retaining the spirit of an inquiry environment.

NOTE
• When you purchase this electronic book you will receive the download instructions after your order has been processed.
• If you have previously purchased a copy of this Vernier lab book please contact Support at Scientrific.com.au for free access to this electronic version and it's updated contents.

Printed Lab Book
• Experiments aligned with the College Board's 16 AP Chemistry investigations
• Access to up-to-date versions of the experiments
• Instructions for data collection with Logger Pro and LabQuest App
• Essential instructor information including teaching tips, instructions for preparing solutions, suggested answers and sample data and graphs
• Word-processing files of the student experiments so you can edit the files to match your teaching preferences
• Complete equipment and supplies list
• A generous site licence­—buy one book and duplicate the experiments for your class

Printed Lab Book APCHEM
When you buy the printed lab book you receive all of the resources listed above for the electronic version plus a printed copy of the book.

Table of Contents:
1. Investigating Food Dyes in Sports Beverages
2. Determining the Copper Content in Brass
3. Investigating Water Hardness
4. The Acidity of Juice and Soft Drinks
5. Separating Molecules
6. Identifying an Unknown Substance
7. Investigating the Purity of a Mixture
8. Determining the Percent Peroxide in a Commercial Product
9. Investigating the Components of a Commercial Tablet
10. The Effect of Acid Rain on a Marble Structure
11. Investigating the Kinetics of a Crystal Violet Reaction
12. Investigating Commercial Hand Warmers
13. Investigating LeChatelier's Principle
14. Investigating Acid-Base Titrations
15. The Buffering Ability of Commercial Products
16. Testing the Effectiveness of a Buffer

AP and Advanced Placement Program are registered trademarks of the American College Entrance Examination Board which was not involved in the production of and does not endorse this product.
Educational use only:
Vernier and Kidwind products are designed for educational use. They are not appropriate for industrial, medical or commercial applications. Details
Last edited 2nd Jan 2022
&nbsp
Works with:
From
LABQ2 - Vernier LabQuest 2 Data Logger and Interface

$835.00

LQ-MINI - Vernier LabQuest Mini Data Logger Interface

$398.00

LQ-VIEW - Vernier LabQuest Viewer

$176.00

LQ-STREAM - Vernier LabQuest Stream Wireless Data Logger

$610.00

LP - Vernier Logger Pro 3 Data Logging Software

$666.00

TMP-BTA - Vernier Stainless Steel Temperature Probe

$89.00

PH-BTA - Vernier pH Sensor

$220.00

CON-BTA - Vernier Conductivity Probe

$256.00

GPS-BTA - Vernier Gas Pressure Sensor

$209.00

ORP-BTA - Vernier ORP Sensor

$234.00

VDC-BTD - Vernier Drop Counter

$243.00

MLT-BTA - Vernier Melt Station

$1,235.00

&nbsp
Similar Products:
From
BIO-A - Advanced Biology with Vernier

$116.00

CWV - Chemistry with Vernier

$107.00

CHEM-O - Organic Chemistry with Vernier

$116.00

CHEM-A - Advanced Chemistry with Vernier

$116.00

BIO-I - Investigating Biology through Inquiry Vernier

$116.00

PHYS-AM - Advanced Physics with Vernier - Mechanics

$116.00

PHYS-ABM - Advanced Physics with Vernier Beyond Mechanics

$116.00

CHEM-I - Vernier Investigating Chemistry through Inquiry

$116.00

APCHEM - Vernier Chemistry Investigations for AP

$116.00
Note: Prices do NOT include GST or freight