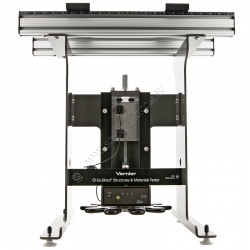 Enlarge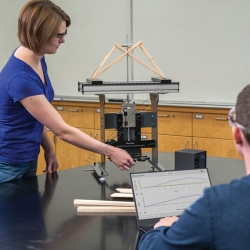 Enlarge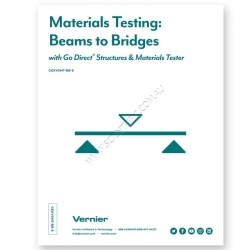 Enlarge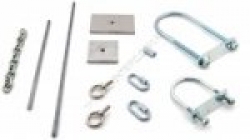 GDX-TK Tackle Kit (included)


Enlarge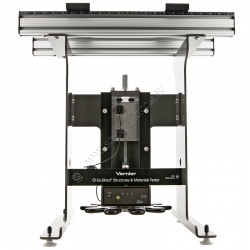 Enlarge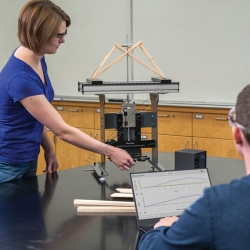 Enlarge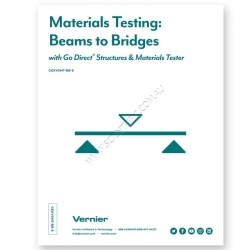 Enlarge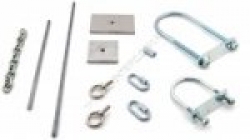 GDX-TK Tackle Kit (included)


Enlarge
Vernier Go Direct Structures & Materials Tester
Order code: GDX-VSMT

VERNIER GO DIRECT STRUCTURES AND MATERIALS TESTER
Vernier's Go Direct Structures and Materials Tester is an excellent tool for teaching engineering concepts and design processes. Students evaluate truss, bridge or other structure strength by measuring the applied load and deflection and graphing the resulting data in real time. Students can explore the effect that beam dimensions and shape have on structure flexibility and strength, investigate how trusses distribute weight, and ultimately build and test their own designs.

Students can more easily apply the redesign phase of the engineering design process as the tester will cause the weakest element of a structure to fail, leaving the remaining elements intact.

This tester gives teachers a great way to motivate their students when it is used for engineering activities and competitions with the free Vernier Go Direct® Bridge Competition Software (for Windows only).
View >>>>

For more advanced investigations, students can combine the sensor displacement data to evaluate the strengths of materials by determining the modulus of elasticity of different materials.

The tester also includes the NGSS-aligned Materials Testing: Beams to Bridges e-book, providing engaging engineering activities to get started.

Features:
• The force and displacement sensors connect via Bluetooth® wireless technology or USB.
• Uses Vernier's free Graphical Analysis™ 4 app to collect and analyze data.
• Obtains exact force and displacement readings for bends and breaks.
• Provides accurate positioning for center and off-center loading.
• Accommodates easy loading for different structure sizes and shapes.

Rechargeable Battery — Ready When You Are
The Vernier Go Direct™ robust rechargeable battery offers long battery life and provides always-ready operation. Monitor battery life directly from Vernier's free Graphical Analysis™ app Should the battery run low simply connect the sensor to the charging cable and keep on collecting — no interruptions or inconvenience to you or your students.

Wired or Wireless — The Flexibility to Choose
Vernier's Go Direct™ sensors connect directly to your mobile device, Chromebook or computer using Vernier's free Graphical Analysis™ app. No additional equipment or software purchases are necessary. Vernier Go Direct sensors can be used wired via USB or wirelessly via Bluetooth allowing you to choose the solution best for your classroom or laboratory.

Vernier Graphical Analysis™ Pro includes all the features of the free Vernier Graphical Analysis app, plus enhanced functions for more advanced analysis. Its illustrative experiment videos and interactive graphing capabilities inspire students to explore crucial scientific concepts and analyze data in new complex and insightful ways.
Vernier Graphical Analysis™ Pro is compatible with most Vernier sensors and multiple operating systems and devices.

Included:
• Vernier Go Direct® Structures and Materials Tester
• E-book Materials Testing: Beams to Bridges with Go Direct® Structures and Materials Tester
• VSMT-TK Vernier Tackle Kit
• Free download of Vernier Go Direct® Bridge Competition Software
• Assembly Instructions
• USB micro cable

Specifications:
• Load Cell
Operational Range: 0 to 1,000N
Positive stop to prevent sensor damage
Resolution: 0.1N
• Displacement Sensor (encoder)
Range: 0 to 7cm
Resolution: 1.0µm

NOTE: Due to the size and weight of this product it is expensive to import and our price reflects that cost. Extra domestic freight charges may also apply.
Educational use only:
Vernier and Kidwind products are designed for educational use. They are not appropriate for industrial, medical or commercial applications. Details
---
Warranty
Warranty: 5 year limited warranty (1 year on battery)

---

Dimensions

Product size: 450x500x200mm (WHD)
Weight: 10kg
Package size (HxWxD): 216 x 356 x 483mm
Packed weight: 9.28kg

Last edited 24th Aug 2023

This product is used in teaching these Australian Curriculum codes:

ACSPH063 - Linear Motion and Waves - Linear motion and force - Newton's Three Laws of Motion describe the relationship between the force or forces acting on an object, modelled as a point mass, and the motion of the object due to the application of the force or forces

Click a curriculum code to see other products that relate.
&nbsp
Works with:
From
GA4 - Vernier Graphical Analysis

$0.00

VSMT-TK - Vernier Structure and Materials Tester (VSMT) Tackle Kit

$112.00

VSMT-TRUSS - Vernier Truss Tester Accessory

$294.00
Note: Prices do NOT include GST or freight