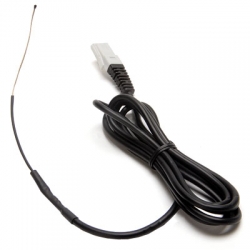 Enlarge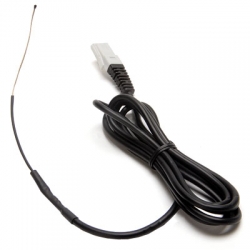 Enlarge
Vernier Surface Temperature Probe
Order code: STS-BTA

VERNIER SURFACE TEMPERATURE PROBE
Vernier's Surface Temperature Sensor is designed for use in situations in which low thermal mass or flexibility is required, or for a skin temperature measurement. It has an exposed thermistor that results in an extremely rapid response time. This design allows for use in air and water. For temperature measurements in harsher environments that require a more durable probe we recommend Vermier's TMP-BTA Stainless Steel Temperature Probe.

Typical uses for the Surface Temperature Sensor include:
• Skin temperature measurements
• Human respiration studies
• Specific heat experiments
• Heat transfer experiments
• Friction and energy studies






Specifications:
• Temperature range: –25° to 125°C
• Maximum temperature that the sensor can tolerate without damage: 150°C
• Typical Resolution:
0.08°C (–25 to 0°C)
0.03°C (0 to 40°C)
0.1°C (40 to 100°C)
0.25°C (100 to 125°C)
• Temperature sensor: 20 kΩ NTC Thermistor
• Accuracy: ±0.2°C at 0°C, ±0.5°C at 100°C
• Response time (time for 90% change in reading)
50 seconds (in still air)
20 seconds (in moving air)
• Probe dimensions: Probe length (handle plus body) 15.5 cm



Important: For use in air and water only. For temperature measurements in harsher environments we recommend the Stainless Steel Temperature Sensor.
Educational use only:
Vernier and Kidwind products are designed for educational use. They are not appropriate for industrial, medical or commercial applications. Details
---
Warranty
Warranty: 5 years

---

Dimensions

Package size (HxWxD): 25 x 127 x 203mm
Packed weight: 50g

Last edited 19th May 2022

This product is used in teaching these Australian Curriculum codes:

ACSSU049 - Physical Sciences - Heat - Heat can be produced in many ways and can move from one object to another
ACSSU182 - Physical Sciences - Energy Transfer - Energy transfer through different mediums can be explained using wave and particle models

Click a curriculum code to see other products that relate.
&nbsp
Works with:
From
LABQ2 - Vernier LabQuest 2 Data Logger and Interface

$835.00

LQ-MINI - Vernier LabQuest Mini Data Logger Interface

$398.00

LP - Vernier Logger Pro 3 Data Logging Software

$666.00

GO-LINK - Vernier Go!Link Data Logger Interface with Logger Lite Software

$167.00

ELB-SOLAR - Vernier Investigating Solar Energy

$60.00

HP-A - Human Physiology with Vernier

$116.00

REV - Renewable Energy with Vernier

$116.00

EPV - Vernier Engineering Projects with NI LabVIEW and Vernier

$117.00

&nbsp
Similar Products:
From
GO-TEMP - Vernier Go!Temp Data Logger Temperature Probe with Logger Lite Software

$100.00

TMP-BTA - Vernier Stainless Steel Temperature Probe

$89.00

TCA-BTA - Vernier Thermocouple

$176.00

TPL-BTA - Vernier Extra Long Temperature Probe

$220.00

WRT-BTA - Vernier Wide Range Temperature Probe

$220.00

EZ-TMP - Vernier Easy Temp

$98.00
Note: Prices do NOT include GST or freight