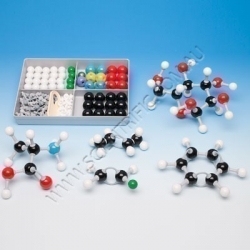 MMS-008,Molymod Organic Student Set.


Enlarge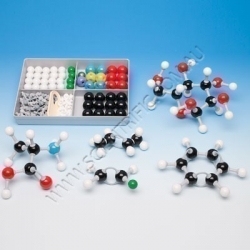 MMS-008,Molymod Organic Student Set.


Enlarge
Molymod Organic Student Set
Order code: MMS-008

MOLYMOD ORGANIC STUDENT SET.
The MMS-008 molecular model set contains 53 colour coded atoms and 64 links in a storage box. The set provides students with a hands-on activity to visually demonstrate organic molecules, empirical formula representations, organic structures and other concepts of organic chemistry.

Features:
• Durable plastic atom parts and links for assembling models
• Colour-coded for ease of identification
• Atom parts range from 17mm to 23mm in diameter
• Includes a plastic box with four compartments for ease of storage
• Atom parts represent carbon, hydrogen, oxygen, halogen, nitrogen, sulphur, phosphorus and metal.

Contents:
• 14 x Carbon, 4-holes tetrahedral, black
• 20 x Hydrogen, 1-hole, white
• 6 x Oxygen, 2-holes angular, red
• 4 x Halogen, 1-hole, green
• 2 x Nitrogen, 4-holes tetrahedral, blue
• 2 x Nitrogen, 3-holes, pyramidal, blue
• 1 x Sulphur, 4-holes tetrahedral, yellow
• 1 x Sulphur, 6-holes octahedral, yellow
• 1 x Phosphorus, 4-holes, tetrahedral, purple
• 1 x Phosphorus, 5-holes, trigonal bipyramidal, purple
• 1 x Metal, 1-hole, grey
• 26 x Links, medium, grey, ML-12
• 26 x Links, short, white, ML-10
• 12 x Links, flexible long, grey, ML-13
• 1 x Link Remover Tool
• Storage box
• Instructions

Warning:
To be used under the direct supervision of an adult

A genuine Molymod® product made in the U.K. not a cloned look-a-like.
Last edited 17th Oct 2023

This product is used in teaching these Australian Curriculum codes:

ACSSU187 - Chemical Sciences - Chemical Reactions - Different types of chemical reactions are used to produce a range of products and can occur at different rates
ACSSU186 - Chemical Sciences - Periodic table - The atomic structure and properties of elements are used to organise them in the Periodic Table

Click a curriculum code to see other products that relate.
&nbsp
Similar products:
From
MMS-009 - Molymod Organic/Inorganic Student Set

$41.60

MMS-010 - Molymod Biochemistry Student Set

$47.90

MMS-015 - Molymod Elementary Organic Set

$24.50

MMS-003 - Molymod Organic Teachers Set - 111 Atoms

$85.00

MMS-004 - Molymod Organic/Inorganic Teachers Set - 108 Atoms

$84.50

MMS-007 - Molymod Biochemistry Teachers Set

$156.40

MMS-051 - Molymod Organic Stereochemistry Set of 74 Atoms

$48.70

MMP-AT2 - Molymod Atomod Organic Student Pack 19 Atom plus 24 Links

$16.00
Note: Prices do NOT include GST or freight