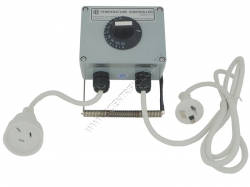 CH4240-101 Temperature Controller.


Enlarge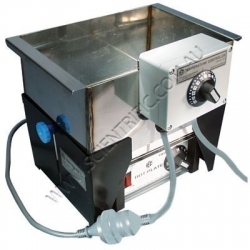 CH4240-001 Water Bath with CH4240-101 Controller on a CH1920-001 Hot Plate . Purchase each item individually.


Enlarge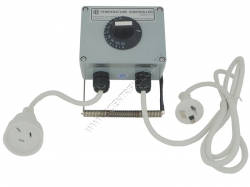 CH4240-101 Temperature Controller.


Enlarge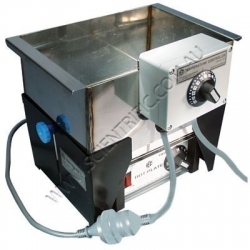 CH4240-001 Water Bath with CH4240-101 Controller on a CH1920-001 Hot Plate . Purchase each item individually.


Enlarge
IEC Water Bath Temperature Controller
Order code: CH4240-101

| Purchase QTY: (Each) | 1+ | | | | |
| --- | --- | --- | --- | --- | --- |
| Base price | $172.00 | | | | |
| Scientrific's price | $168.00 | | | | |
Note: Prices do NOT include GST or freight
IEC WATER BATH TEMPERATURE CONTROLLER
This Temperature Controller fits over the edge of the CH4240-001 IEC Water Bath (purchased separately) for more accurate or unattended work. A hot plate is plugged into the temperature controller which cycles power on and off to the hot plate to maintain a water temperature accuracy of about 3°C.

The controller thermostat element fits into the bottom corner of the bath so that it is submerged when only a small volume of water is used.

The Temperature Controller can maintain a set temperature in the bath either wet or dry. When used dry, the probe should press against the inside surface of the bath so it checks the temperature of the metal to avoid overheating.
NOTE: This is a genuine IEC product
We believe in supporting Australian industry and only sell genuine IEC products, we do NOT sell imported clones of IEC products.

This product is used in teaching these Australian Curriculum codes:

ACSSU049 - Physical Sciences - Heat - Heat can be produced in many ways and can move from one object to another
ACSSU182 - Physical Sciences - Energy Transfer - Energy transfer through different mediums can be explained using wave and particle models

Click a curriculum code to see other products that relate.
&nbsp
Works with:
From
CH4240-001 - IEC Water Bath only use with IEC Hot Plate

$225.00
Note: Prices do NOT include GST or freight