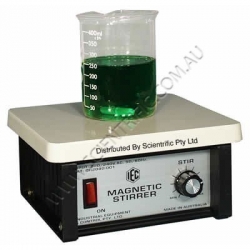 Pictured is similar model CH2080-001 with epoxy top plate.


Enlarge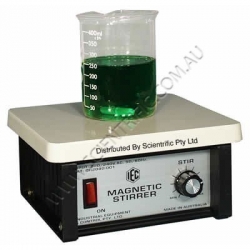 Pictured is similar model CH2080-001 with epoxy top plate.


Enlarge
IEC Magnetic Stirrer Variable Speed PTFE Plate
Order code: CH2081-001

Purchase QTY: (Each)
1+
Base price
$430.00
Scientrific's price
$430.00
Educational special
$405.00
Note: Prices do NOT include GST or freight
IEC VARIABLE SPEED MAGNETIC STIRRER WITH PTFE COATED TOP PLATE
IEC Magnetic Stirrer with a 200x180mm PTFE (Teflon) coated plate to resist corrosion and clean easily.

The electronic speed control adjusts from 150 to 1200RPM approximately, to provide a slow minimum speed for titration work and excellent high speed for very strong mixing and stirring.
The high magnet strength stirs effectively up to the viscosity of glycerine.

Purchase Spin Bars separately.

CH2080-001 IEC Magnetic Stirrer Variable Speed Epoxy Plate is the same model with the top plate epoxy coated.
NOTE: This is a genuine IEC product
We believe in supporting Australian industry and only sell genuine IEC products, we do NOT sell imported clones of IEC products.
---
Dimensions
Product size: 200x100x180mm (WHD)
Weight: 2.66kg

Last edited 1st Nov 2023

This product is used in teaching these Australian Curriculum codes:

ACSSU049 - Physical Sciences - Heat - Heat can be produced in many ways and can move from one object to another
ACSSU182 - Physical Sciences - Energy Transfer - Energy transfer through different mediums can be explained using wave and particle models

Click a curriculum code to see other products that relate.
&nbsp
Works with:
From
CH2080-001 - IEC Magnetic Stirrer Variable Speed Epoxy Plate

$370.00

PA2081-002 - IEC Magnetic Stirrer Top Plate PTFE Coated

$88.00

PA2080-003 - IEC Magnetic Stirrer Magnet & Holder Assembly

$41.80

PA2080-005 - IEC Magnetic Stirrer Top Plate Epoxy Coated

$89.00

PA2080-007 - IEC Magnetic Stirrer Speed Control only Electronic

$51.00

PA3802-005 - IEC Spin Bar 25mm PTFE

$9.20

PA3802-010 - IEC Spin Bar 40mm PTFE

$10.70

&nbsp
Similar Products:
From
STIR - Vernier Stir Station

$330.00

GDX-DC - Vernier Go Direct Drop Counter

$250.00

MSTIR - Vernier Microstirrer

$21.00

CH1920-001 - IEC Hot Plate Simmerstat Plain Top 240V AC

$350.00

CH1921-001 - IEC Hot Plate Simmerstat PTFE Top 240V AC

$380.00

CH1922-001 - IEC Hot Plate Thermostat Plain Top 240V AC

$435.00

CH1923-001 - IEC Hot Plate Thermostat PTFE Top 240V AC

$465.00

CH2090-001 - IEC Magnetic Stirrer Hot Plate Simmerstat Plain Top

$515.00

CH2091-001 - IEC Magnetic Stirrer Hot Plate Simmerstat PTFE Top

$545.00

CH2092-001 - IEC Magnetic Stirrer Hot Plate Thermostat Plain Top

$590.00

CH2093-001 - IEC Magnetic Stirrer Hot Plate Thermostat PTFE Top

$620.00

CH2080-001 - IEC Magnetic Stirrer Variable Speed Epoxy Plate

$370.00
Note: Prices do NOT include GST or freight