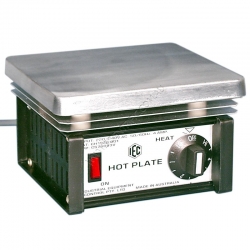 Enlarge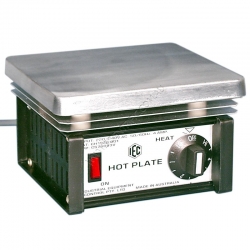 Enlarge
IEC Hot Plate Simmerstat Plain Top 240V AC
Order code: CH1920-001

Purchase QTY: (Each)
1+
Base price
$375.00
Scientrific's price
$375.00
Educational special
$350.00
Note: Prices do NOT include GST or freight
IEC HOT PLATE SIMMERSTAT CONTROL PLAIN TOP 240V AC
A general purpose 240V AC 600W laboratory hot plate with a 200x180mm high temperature alloy top plate for even plate temperature.

The 'Simmerstat' temperature control provides heat adjustment from zero to full over a scale from 1 to 10 with a maximum plate temperature of approximately 450°C. The Simmerstat provides continuous adjustment of plate temperature but does not hold it to a specific set temperature. A simmerstat control is better suited for boiling water than thermostat models.

CH1921-001 IEC Hot Plate Simmerstat PTFE Top is the same model with the top plate Teflon coated.

Ideal for general laboratory use.

IEC Hot Plates provide a reliable source of mains powered, controlled heat for the laboratory. The heating element is recessed and bonded into the underside of the alloy plate for total thermal efficiency. A ceramic board provides insulation and baffle plates ensure that the housing remains cool even after prolonged operation with temperatures up to 400°C. The compact housing provides good stability and controls are recessed for protection. The large top plate has a flat machined surface. The housing's durable corrosion resistant finish ensures a long life.
NOTE: This is a genuine IEC product
We believe in supporting Australian industry and only sell genuine IEC products, we do NOT sell imported clones of IEC products.
---
Dimensions
Product size: 180x125x200mm (WHD)
Weight: 2.4kg

Last edited 1st Nov 2023

This product is used in teaching these Australian Curriculum codes:

ACSSU046 - Chemical Sciences - Solids Liquids Gases - A change of state between solid and liquid can be caused by adding or removing heat
ACSSU049 - Physical Sciences - Heat - Heat can be produced in many ways and can move from one object to another
ACSSU094 - Biological Sciences - Adaptations - The growth and survival of living things are affected by the physical conditions of their environment
ACSSU095 - Chemical Sciences - Chemical Changes - Changes to materials can be reversible, such as melting, freezing, evaporating; or irreversible, such as burning and rusting
ACSSU113 - Chemical Sciences - Separating Mixtures - Mixtures, including solutions, contain a combination of pure substances that can be separated using a range of techniques
ACSSU182 - Physical Sciences - Energy Transfer - Energy transfer through different mediums can be explained using wave and particle models

Click a curriculum code to see other products that relate.
&nbsp
Accessories / Spare Parts:
From
CH4240-001 - IEC Water Bath only use with IEC Hot Plate

$253.00

CH4240-101 - IEC Water Bath Temperature Controller

$189.00

PA1920-002 - IEC Hot Plate Top Plate and Element Plain

$154.60

PA1921-002 - IEC Hot Plate Top Plate and Element PTFE Top

$182.60

PA1920-004 - IEC Hot Plate Simmerstat Controller without Knob

$33.90

PA1920-005 - IEC Hot Plate Insulation Sheet Under Hot Plate

$13.40

PA1920-007 - IEC Hot Plate Insulation Bush For Heat Baffle

$2.20

PA1920-008 - IEC Hot Plate Insulation Sleeve For Heat Baffle

$1.10

PA2494-001 - IEC Mains Power Cable - 240V 3 Pin Plug to IEC C13 Female - 2m Silicon Rubber

$24.20

&nbsp
Similar Products:
From
CH1921-001 - IEC Hot Plate Simmerstat PTFE Top 240V AC

$380.00

CH1922-001 - IEC Hot Plate Thermostat Plain Top 240V AC

$435.00

CH1923-001 - IEC Hot Plate Thermostat PTFE Top 240V AC

$465.00

CH2090-001 - IEC Magnetic Stirrer Hot Plate Simmerstat Plain Top

$515.00

CH2091-001 - IEC Magnetic Stirrer Hot Plate Simmerstat PTFE Top

$545.00

CH2092-001 - IEC Magnetic Stirrer Hot Plate Thermostat Plain Top

$590.00

CH2093-001 - IEC Magnetic Stirrer Hot Plate Thermostat PTFE Top

$620.00

CH2080-001 - IEC Magnetic Stirrer Variable Speed Epoxy Plate

$370.00
Note: Prices do NOT include GST or freight