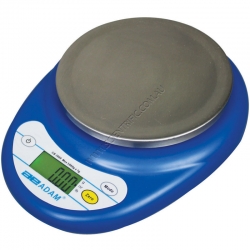 CB1000 left hand.


Enlarge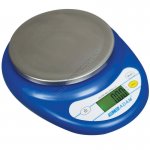 CB1000 right hand.


Enlarge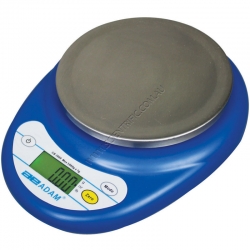 CB1000 left hand.


Enlarge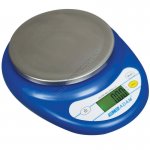 CB1000 right hand.


Enlarge
Adam Electronic Balance 1000g x 0.1g
Order code: CB 1001
| Purchase QTY: (Each) | 1+ | 3+ | 6+ | | |
| --- | --- | --- | --- | --- | --- |
| Base price | $138.00 | $138.00 | $138.00 | | |
| Scientrific's price | $121.00 | $121.00 | $121.00 | | |
| Educational special | $99.00 | $96.00 | $93.00 | | |
Note: Prices do NOT include GST or freight
ELECTRONIC ADAM BALANCE 1000g x 0.1g
The CB 1001 is a compact portable scale which is ideally suited for a variety of uses and applications. It is small, portable and easy to use. The bright green backlit LCD display shows clear results, with a simple to use keyboard and Grade 304 stainless steel removable top pan for easy cleaning.

Specifications
• 1000g capacity
• 0.1g resolution
• 130mm diameter stainless steel pan

Features
• Mains or battery operated (requires two AA batteries which are included)
• Mains power adaptor not included
• Easy to use keyboard
• Measure in grams, ounces and pounds

Optional Mains adaptor is listed under Accessories/Spare Parts below.
Last edited 1st Mar 2022
&nbsp
Accessories / Spare Parts:
From
700400121 - Mains Power Adaptor for Adam CB Series Balance

$36.00

&nbsp
Similar Products:
From
DCT 2000 - Adam Electronic Balance 2000g x 1g

$95.00

DCT 5000 - Adam Electronic Balance 5000g x 2g

$95.00

CQT 601 - Adam Electronic Balance 600g x 0.1g

$185.00

TBB 2610S - Adam Mechanical Balance 2610g x 0.1g

$244.00

TBB 2610T - Adam Mechanical Balance 2610g x 0.1g Tare

$274.00

CQT 202 - Adam Electronic Balance 200g x 0.01g

$285.00

CQT 2601 - Adam Electronic Balance 2600g x 0.1g

$302.00

HCB 602H - Adam Electronic Balance 600g x 0.01g

$453.00

HCB 1002 - Adam Electronic Balance 1000g x 0.01g

$500.00

HCB 3001 - Adam Electronic Balance 3000g x 0.1g

$423.00

HCB 123 - Adam Electronic Balance 120g x 0.001g

$486.00

PGL 4001 - Adam Electronic Balance 4000g x 0.1g

$589.00

PGL 8001 - Adam Electronic Balance 8000g x 0.1g

$699.00
Note: Prices do NOT include GST or freight