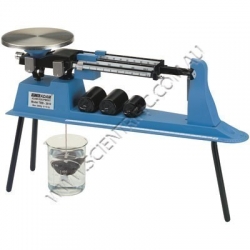 TBB2610S pictured. The TBB2610T is similar and has a 225g taring function.


Enlarge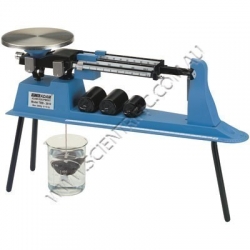 TBB2610S pictured. The TBB2610T is similar and has a 225g taring function.


Enlarge
Adam Mechanical Balance 2610g x 0.1g Tare
Order code: TBB 2610T
| Purchase QTY: (Each) | 1+ | | | | |
| --- | --- | --- | --- | --- | --- |
| Base price | $299.00 | | | | |
| Scientrific's price | $274.00 | | | | |
Note: Prices do NOT include GST or freight
MECHANICAL ADAM TRIPLE BEAM BALANCE 2610g x 0.1g with 225g TARE
Triple Beam Balances are a low cost mechanical balance, which meet the requirements for high precision and reliable weighing in laboratories, schools and industry. These balances require external calibration and are useful for applications such as weighing, net weight/tare, below balance weighing, density of liquids or solids and filling.

Specifications
• 2610g capacity
• 0.1g readability
• 152mm diameter stainless steel pan
• 225g taring

Features
• Measures in grams
• Zero adjust facility to enable zero reading
• Notched and tiered graduated beams with centre reading
• Ruler for measuring cm
• Weight holders for additional weight storage
• Tripod legs for density determination
• Kensington security mounting slot

This Adam balance comes with a three year warranty.

Note: This product is purchased as required, returns are therefore not accepted.
---
Warranty
Warranty: 3 years

Last edited 1st Mar 2022
&nbsp
Similar Products:
From
DCT 2000 - Adam Electronic Balance 2000g x 1g

$95.00

DCT 5000 - Adam Electronic Balance 5000g x 2g

$95.00

CQT 601 - Adam Electronic Balance 600g x 0.1g

$185.00

TBB 2610S - Adam Mechanical Balance 2610g x 0.1g

$244.00

CQT 202 - Adam Electronic Balance 200g x 0.01g

$285.00

CQT 2601 - Adam Electronic Balance 2600g x 0.1g

$302.00

HCB 602H - Adam Electronic Balance 600g x 0.01g

$453.00

HCB 1002 - Adam Electronic Balance 1000g x 0.01g

$500.00

HCB 3001 - Adam Electronic Balance 3000g x 0.1g

$423.00

CB 1001 - Adam Electronic Balance 1000g x 0.1g

$93.00

HCB 123 - Adam Electronic Balance 120g x 0.001g

$486.00

PGL 4001 - Adam Electronic Balance 4000g x 0.1g

$589.00

PGL 8001 - Adam Electronic Balance 8000g x 0.1g

$699.00
Note: Prices do NOT include GST or freight