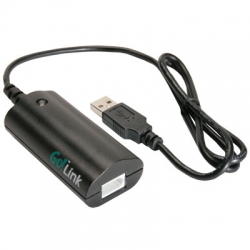 Get 8 of these Go!Links in the Teacher Pack.


Enlarge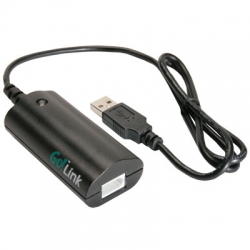 Get 8 of these Go!Links in the Teacher Pack.


Enlarge
Vernier Go!Link Data Logger Interface Teacher Pack of 8
Order code: GL-TP

VERNIER GO!LINK TEACHER PACK
Save money by purchasing the Vernier Go!Link Teacher Pack. Use the 8 Go!Links to connect 8 sensors to 8 computers or connect multiple sensors to one computer or Chromebook.

Vernier's Go!Link USB sensor interface is a quick and affordable way to get started with data-collection technology. It's a single-channel interface that connects most Vernier sensors to a computer or Chromebook USB port.

Setting up data-collection experiments is simple:
1. Plug the Go!Link to a USB port and a sensor into the Go!Link
2. Start the data-logging software
3. Click on the "Collect" button to see a real-time graph

Data-Collection Software:
Logger Lite and Graphical Analysis for Chrome are free downloads. Go!Link can also be used with optional Logger Pro software sold separately.
Educational use only:
Vernier and Kidwind products are designed for educational use. They are not appropriate for industrial, medical or commercial applications. Details
---
Warranty
Warranty: 5 years

---

Dimensions

Package size (HxWxD): 64 x 229 x 305mm
Packed weight: 680g

Last edited 19th May 2022

This product is used in teaching these Australian Curriculum codes:

ACSSU117 - Physical Sciences - Forces and Machines - Change to an object's motion is caused by unbalanced forces, including Earth's gravitational attraction, acting on the object

Click a curriculum code to see other products that relate.
&nbsp
Similar Products:
From
LQ-MINI - Vernier LabQuest Mini Data Logger Interface

$398.00

LQ-STREAM - Vernier LabQuest Stream Wireless Data Logger

$610.00

GO-LINK - Vernier Go!Link Data Logger Interface with Logger Lite Software

$167.00

GO-TEMP - Vernier Go!Temp Data Logger Temperature Probe with Logger Lite Software

$100.00

GT-TP - Vernier Go!Temp Data Logger Temperature Probe Teacher Pack of 8

$777.00

GO-MOT - Vernier Go!Motion Data Logger with Logger Lite software

$309.00

GO-MOT-TP - Vernier Go!Motion Data Logger Teacher Pack of 8

$2,402.00

BTA-NXT - Vernier NXT Sensor Adapter

$87.00

EZ-LINK - Vernier Easy Link

$165.00
Note: Prices do NOT include GST or freight